BECOME PART OF THE ECOMMERCE REVOLUTION
Virtual Try On


Glasses


for Explosive Sales
and Reduced Returns
Stand Out from the Competition with the exceptional virtual shopping experience.

It's time to blow up sales of your Ecommerce digital store with the power Wearable Shopping Experience.
SPEAK TO OUR TEAM TODAY
Schedule Your FREE Demo Call Now
Bye-Bye Buyer's Remorse
Lift In Brand Sharing
2.2x
Average Engagement Time
28 sec
Revenue Driven Reasons
Boost Conversion Rates
Virtual try-on increases the likelihood of a purchase by allowing customers to visualize products on themselves, reducing purchase hesitancy
Social Media Engagement
Customers are more likely to share their virtual try-on experiences on social media, driving organic marketing and brand visibility
Reduce shipping costs
Virtual try-on allows customers to explore products without ordering, reducing the need for unnecessary shipping, saving on logistics expenses
Brand Differentiation
Implementing virtual try-on sets e-commerce stores apart from competitors, presenting a modern and customer-centric approach to shopping
Reduce Returns
With virtual try-on, customers can make more informed choices, leading to a decrease in returns due to incorrect fit or unsatisfactory appearance
Industries Dominating
Sales

with Virtual Try-On

🕶️

Glasses

Sunnies, Prescription Eyewear

👗

Apparel

Dresses, Hoodies, Shirts, Longsleeves, Skirts, Tops etc.

💍

Jewerly

Earrings, Necklaces, Rings

💄

Makeup

Lipstick, Eyelashes, Foundation, Eyeliner, Brows, etc.

🛒

And Much More

Handbags, Watches, etc...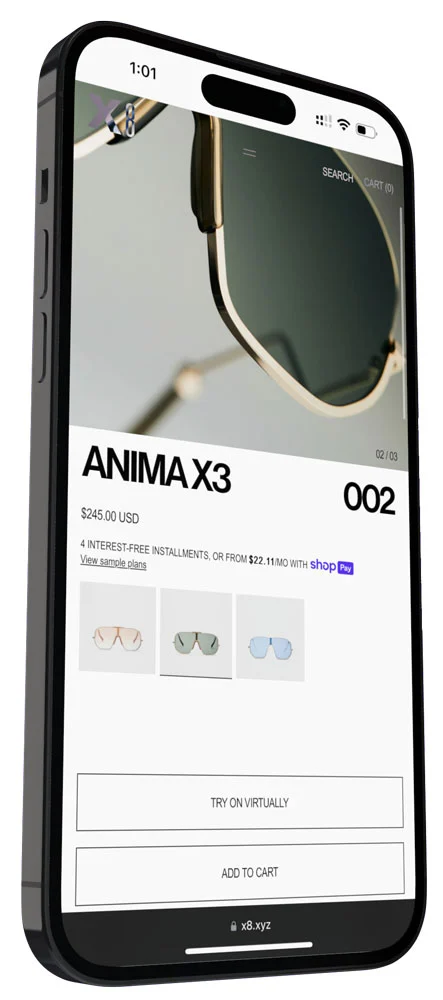 App-Free Web Virtual Try-On
Effortless Integration within 3 steps
All Major Providers








The list is not complete...
GET INTEGRATION GUIDE
Unlimited Platforms
Which of the glasses are
real

?

WE BUILD FREE AR TRY-ON FOR YOU ON THE CALL
Find out how the VTO can Boost your Business
By the end of this call, you will have a clear understanding of how the Virtual Try On can drive revenue specifically for your business.

Find a time on Geenee calendar to schedule your call today and we look forward to speaking to you soon!
THE DEMO CALL IS PERFECT FOR:
Businesses looking to understand their increased revenue potential with Web AR Virtual Try On.
Businesses looking to Reduce Return rates.
Brands looking to differentiate from the rest of the market.
Businesses looking to increase Conversion Rates.
Businesses looking to Reduce Shipping Costs.
Have A General Inquiry?
If you have a general inquiry and would like to speak to our expert team, you can contact us via email at: [email protected]